[vc_row][vc_column][vc_column_text]
Will Interest Rates Go Up?
Panama City Beach, as well as throughout the Emerald Coast, the housing market is very competitive.  The question as to whether interest rates will go up later this year adds to the sense of urgency home buyers are experiencing as they search for their perfect beach home.  Right now, sellers are in the driver's seat, and buyers are having a tough time keeping up with the competitive market.  We are experiencing multiple offers the same day a home hits the market.  Many offers have escalation clauses and the demands for the highest and best offer.     
[/vc_column_text][vc_column_text][/vc_column_text][vc_column_text]
Are Interest Rates Expected to Rise Over the Next Year?
Are interest rates going to go up, if so when?  So far this year, mortgage rates continue to hover around 3%, encouraging many hopeful homebuyers to enter the housing market. However, there's a good chance rates will increase later this year and going into 2022, ultimately making it more expensive to borrow money for a home loan. Here's a look at what several experts have to say.
"Our long-term view for mortgage rates in 2021 is higher. As the economic outlook strengthens, thanks to progress against coronavirus and vaccines plus a dose of stimulus from the government, this pushes up expectations for economic growth . . . ."
"In 2021, I think rates will be similar or modestly higher . . . mortgage rates will continue to be historically favorable."
"We forecast that mortgage rates will continue to rise through the end of next year. We estimate the 30-year fixed mortgage rate will average 3.4% in the fourth quarter of 2021, rising to 3.8% in the fourth quarter of 2022."
Below are the most recent mortgage rate forecasts from four top authorities – Freddie Mac, Fannie Mae, the Mortgage Bankers Association (MBA), and NAR: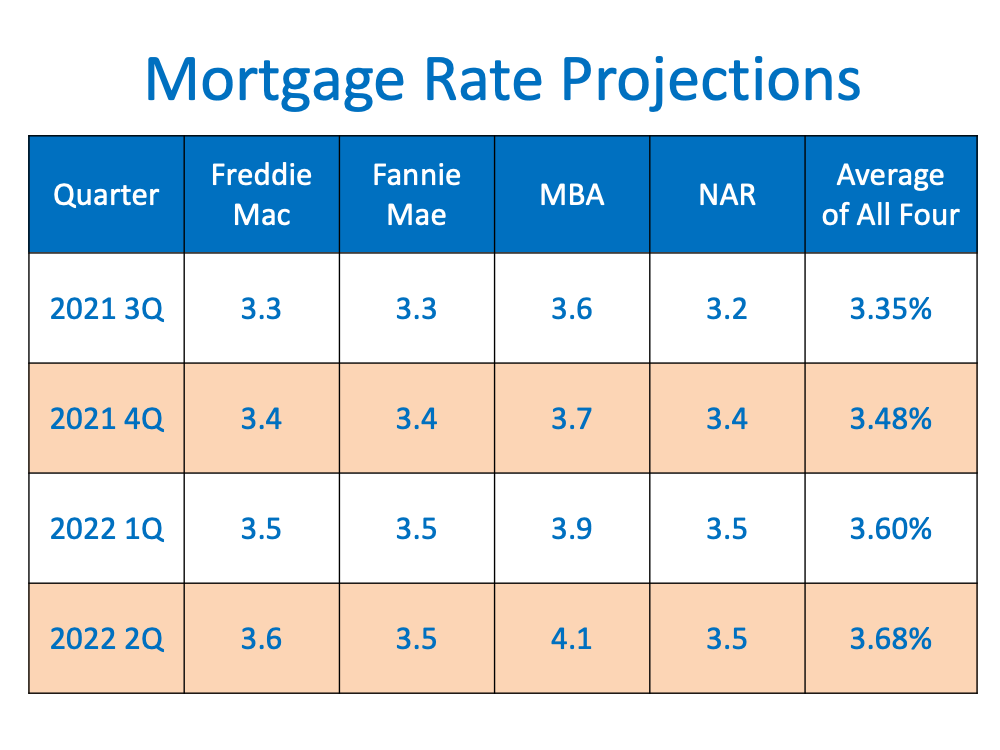 Bottom Line
If you're planning to buy a home, purchasing before mortgage interest rates rise may help you save significantly over the life of your home loan.
Do you have further questions regarding making a winning offer?  To learn more, reach out to our team.  With two office locations, Life's A Beach Real Estate located in Panama City Beach.  And Life's A Beach Luxury Real Estate located in Destin.  We are here to answer your questions and help you find your piece of paradise.
[/vc_column_text][/vc_column][/vc_row]