Thursday, May 26, 2016 11:07 AM by Visit Panama City Beach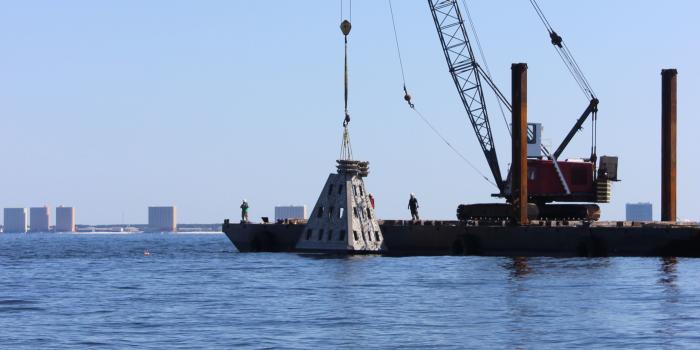 Panama City Beach, already known as the "Wreck Diving Capital of the South" for its abundance of shipwrecks and artificial reefs available for SCUBA divers to explore, has added another group of 5 Super Limestone Reefs to its collection of artificial reefs meant to increase marine life habitat – a certain boon for both divers and fishermen!
The reefs were deployed on May 14, 2016 by Walter Marine, using a $60,000 grant that Bay County secured from the Florida Fish and Wildlife Conservation Commission (FWC). The new super reefs are 18-feet tall, built in a pyramid shape, and design to quickly collect natural aquatic growth, and provide excellent habitat for a wide range of marine life, even attracting larger pelagic species like amberjack and wahoo.
Video taken of the reef deployment shows a crane lowering the towering artificial reefs into the water, just 3 miles off the shoreline of Panama City Beach (the deployment was visible from the City Pier, as well as the nearby condos). A few days later, underwater footage from a survey dive showed that the reefs had settled perfectly and were already starting to collect small bait fish!
The super reefs rest on the sea floor at 74 feet, with the top of the reef rising to a depth of 56 feet.